The world , they say, is getting warmer. Ice melting, polar bears vanishing and disasters striking– It is all over the Internet, television and even in the movies! People sound rather worried about 'GLOBAL WARMING' and 'CLIMATE CHANGE' and trying to reduce their carbon footprint. You might be wondering what all the hullaballo is about. What's going on?
GLOBAL WARMING
Gases like water vapor, carbon dioxide, methane and ozone trap heat in the troposphere, the lowest layer of the Earth's atmosphere. These are called greenhouse gases (GHGs) because the heat trap is somewhat like a glass greenhouse or a car with closed glass windows.
How does this work?
High energy radiation from the sun passes through the atmosphere and reaches the earth. The earth absorbs it and then emits low-energy heat, which the GHGs soak up. The GHGs re-radiate this heat. This build up of heat in the troposphere is called the greenhouse effect. It is vital to our existence because if all GHGs were removed, the Earth's average surface temperature would drop by staggering 33°C and if GHGs increased, the Earth would warm up.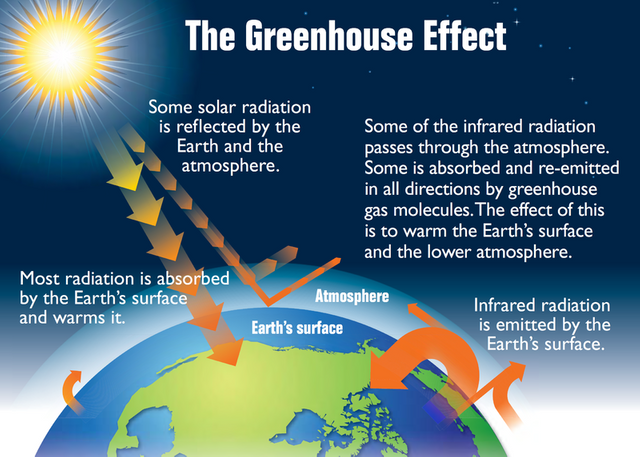 The additional GHGs in the atmosphere have caused and enhanced greenhouse effect, which is the main reason for the Earth's average surface temperature rising by about 0.74°C during the century 1906-2005. The temperature increased almost twice as fast in the second half of the century a over the entire century. This is called GLOBAL WARMING.
Due to rapid burning of fossil fuels (like coal, petroleum and natural gas) and deforestation, GHGs in the atmosphere have increased sharply. Carbon dioxide rose from 280 parts per million (ppm) before Revolution (pre-1750) to 393 ppm in 2012, the highest in two million years. Methane has more than doubled.